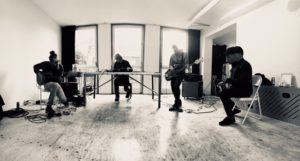 Readymade is an Improv Lab
Besides the regular Vrooom concerts (that happen once a month) we have started a concert series called Readymade. It could happen on several location and is supposed to be an event that acts as a playground for (mainly) Rotterdam musicians to play improvised music.
It should function as a try out/meeting point for all Rotterdam musicians that dare to play this stuff… But also as a Lab for trying our different approaches to improv music. Our latest graze is to get movers/dancers involved in a setting with musicians that are not afraid to follow their limbs every now and then.
CHECK THE READYMADE BLOG FOR THE LATEST