Version 1.0   (2005-2016)
You can find our former blog HERE
And HERE'S a link to the worm website where there's a quite accurate list (with short interviews) of studio residencies, intertwined with other Worm projects.
Some (Old Studio) Nice Memories;
Adi Gelbart in the studio…  Adi gave us later a copy of his record 'Preemptive Musical Offerings To Satisfy Our Future Masters' which was partly recorded at these sessions.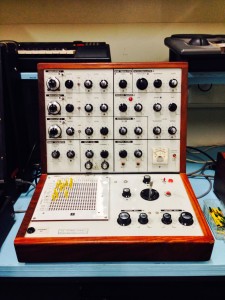 Worm Klangendum Studio
Version 2.0 (2016 – ?)
In 2017 some of the studio equipment was sold to Toonzaal Willem II in Tilburg, as it was still owned by the former CEM. We started to built up a new collection with a slightly different collection. Stuff like this;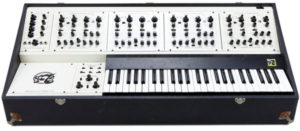 and this;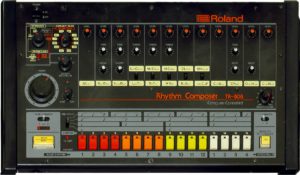 etcetera!
The Worm publicity machine tried to interview us about that (and the re-opening in 2018). This is the result;
Question;
Opening of the Worm studio, what do you want to achieve with it?
answer; (irritated)
"What do you want to achieve with that …?" What does that mean?
Question;
The Worm studio has been open since 2005, right? How many musicians and sound artists have not worked since then?
answer;
A lot of. But that's not our point …
Question;
What is your point?
answer;
At the beginning of last year, almost the entire 'old' worm studio moved to Den Bosch … And we started building the old studio with new content … That went pretty well … We now have two studios available with special old junk ….
Question;
You talk about your own stuff like that? It seems that there is a whole arsenal of vintage synths, effects and rhythm machines in one studio, and the small studio has been converted into a pre-synth modular lab …
Question;
Is this a question or a publicity talk? Of course I mean by old junk something like 'unheard of rare electronic vintage equipment' ….
Question;
And why exactly should musicians, producers and sound artists use the Worm studio?
answer;
Why ? Let them stay away. It's way too much fun to work in the studio for us. It's a kind of playground, suitable for all kinds of artistic processes … from collecting sounds to composing all kinds of music to making radio pieces and everything in between and beyond … Oh now I was too enthusiastic … Stay at home folks, with your Ableton samples you can basically do everything you want…
Question;
This is not a question, but I'll just say it anyway; the two Worm studios are available to everyone who is professional enough to handle the equipment. We ask a small amount for studio use, a little more for commercial and supported projects. It is also possible to take out a subscription, on the one hand to support the studio in its continued existence, on the other hand there are of course also some advantages (including studio time at a reduced rate)